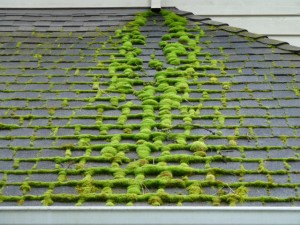 Moss damage and "roof cancer" can be costly
Moss can eat away and stain wood-shingles, push up composition shingles, expose the underlying tar paper and destroy a roof in just a few years. It can also cause leaks, water damage and rot inside your home.
The first step in any moss treatment is to kill the moss, and to prevent any damage from occurring at the earliest opportunity. This is done  to the entire roof, which not only eliminates the moss, but prevents future spore growth as well. Although scraping and brushing the moss from the roof, may be more immediately gratifying aesthetically, it also spreads the rhizomes and spores making the infestation more severe. Killing the moss first is absolutely paramount in this process.
---
Moss growth is attributed to factors such as..
moisture, shade and nearby trees. Most homes are only affected by moss on one or two sides, such as the North and East. Moss is a bryophite, which absorbs water through osmosis. It is very vulnerable to dehydration.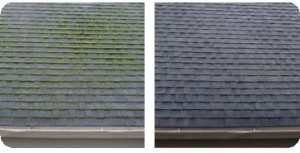 *We do NOT use pressure washers on composite material, or any other invasive and potentially damaging methods! Composite material is hand scrubbed and brushed.
---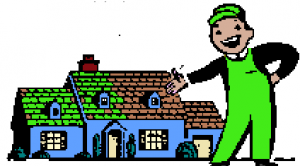 Our

"Moss & Gutter Combo"

service is only a flat rated price of

 

$559!



(This flat rated offer is only valid with COMPOSITE roofs on homes under 5,000 total square feet and under 4 stories.)
---
Before, After, & During Moss Removal Pictures




 Composite roof moss removal
Our moss removal package is superior to others in our industry. We use specially crafted tools to remove the moss from the surface, edge, and in-between each shingle. The moss is then swept or blown from the roof.
 
Tile & metal roof moss removal
The most effective way to remove unsightly moss and moss stains from a metal or tile roof is with a commercial-strength pressure-washer. This must be done by trained professionals in order to prevent damage to the roof. We simply make your roof look new, again.

Cedar shake & wood shingle roof moss removal
Moss removal and oil treatment are necessary to preserve the natural resins in the cedar or wood shingles. Our process for removing moss includes an initial pressure washing and cleanup. The oil treatment is done after the roof dries and restores the natural resins, color and texture. This should be completed when the weekly weather forecast is dry and warm.
Deter moss from returning and taking root in the future:
Contact us today to schedule your roof's flat rated appointment! Or for your FREE tile, sheetmetal, or wood roof cleaning estimate!
There's no roof too steep, no house too tall! Dailey Maintenance does them all!!
503-984-7161