There may be no more important and at the same time overlooked maintenance that is necessary for your home than the dreaded chore of regular gutter cleaning. Semi-annual gutter cleaning is the most common frequency, once in the spring after the trees bud out, and once in late fall after the leaves drop. That's a lot of trips up and down a ladder.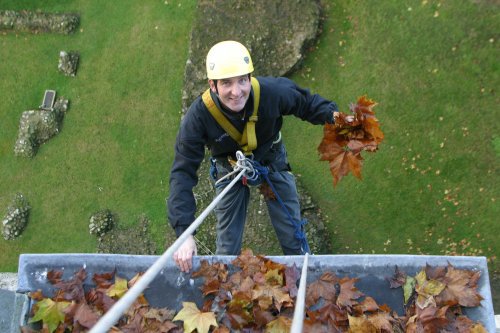 $159 Clean Gutter Package™
Our Clean Gutter Package™ is now only a flat rate of $159 for most sized homes! That's right! Only $159 for the entire package! info@daileymaintenance.com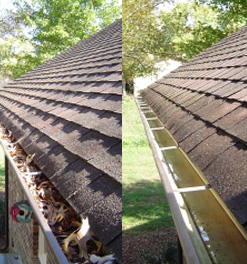 Our Clean Gutter Package™ includes:
1.) Cleaning off all debris which may have accumulated up on the roof or valleys of your home, as well as behind chimneys, skylights, etc. (The number one cause of leaking skylights is debris build up behind the skylight that isn't taken care of. It decomposed into dirt and rots out the flashing around the skylight.)
2.) We then clean all the debris and clogs out of the inside of your gutters, including the sediment. In the case of Gutter Guards, we will clean on top, and underneath all gutters screens, (the only exception being gutter covers which are fastened to the gutter or roofing) and we then straighten the screens as best as possible. As we are cleaning out the gutters, we check and clear out all the down spouts (in the case of very clogged down spouts, we will remove, clear, and then reinstall the down spout).
3.) Form here we do a total system flush, to ensure that there is no clogging, and that everything is free flowing. This also doubles as a leak test.
4.) When all that cleaning is done, we turn our focus toward any repairs the gutter system may need. Such as patching holes, sealing leaks, replacement of straps and spikes, etc.
5.) Once this is all completed, will return to the ground and clean up any debris from the roof or gutters. Our goal is to provide a very thorough cleanup, which includes cleaning all areas where the debris may have fallen; bushes, sidewalks and stoops, decks, patios, driveways, porches, yards, etc.
($159 offer good only on homes below or under 5000 total sqft or less than 4 stories. Gutter screens or protection already in place may change offer price due to additional labor.)
Every Clean Gutter Package™ also includes: FREE roof, gutter, flashing, and chimney inspection!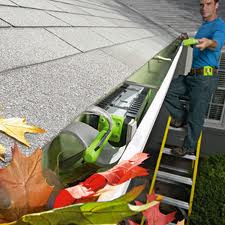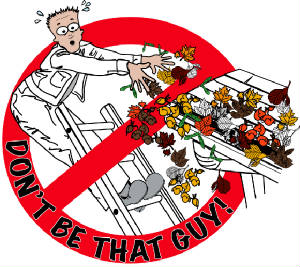 Top 3 reasons why people delay gutter cleaning?
3.) Physical limitations or fear of heights, amplified by roof type or pitch.
2.) Some are unaware that leaves retain moisture and that needles are acidic, virtually rotting their gutters
and the #1 reason is…
1.) Out of sight, out of mind. a lot of people don't realize they need their gutters cleaned, until they're rotten, leaking, overflowing, or causing other damage.
No matter where you live, it is safe to say that every six months, your gutters have accumulated anywhere from 40-250+ pounds of leaves, muck, branches, shingle rock, etc. Clean gutters are a huge factor in avoiding major and expensive home repairs. Gutters perform one job: controlling the water around your home. If debris keeps them from doing their job, then you can wind up with some big problems.
Leaking Basements:
Clogged gutters are the number one cause of basement water problems. Roof water overflows and accumulates around the foundation. If this happens, basement leaks may be moments away.
Cracked Foundations:
Excess water against the foundation wall can weaken the footing and lead to cracks.
Rotten Wood:
Water backing up from clogged gutters will cause moisture damage to the wood fascia and soffits around the house. When gutters have debris piled up above the flashing or shingle line, the debris can hold moisture on the fascia boards. The moisture can also affect the roof sheathing and framing beyond the fascia. The debris will act like a wick and bring water in the bottom of the gutter up to the fascia. An area that becomes rotted will quickly get worse if the leak is not taken care of by cleaning your gutters.
Sagging Driveways:
Clogged gutters and downspouts can cause driveways and walks to sag and crack.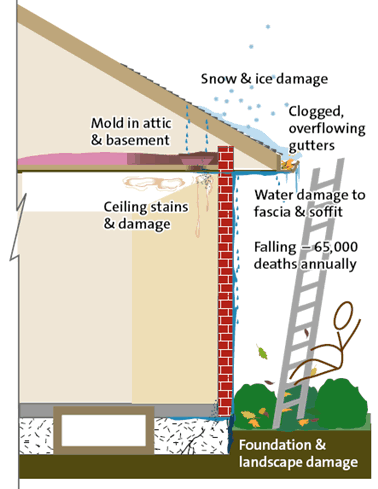 Damage to Flowerbeds:
Any newly installed plants or landscape mulching can be washed away due to water overflowing.
Wood Destroying Insects:
Bugs love moisture. Keeping the soil dry around the foundations can force bugs to go elsewhere. Many termite protection companies will not provide their warranty unless there are seamless rain gutters in good working condition.
Clogged Spouts:
When we get to the end of the gutter where the spout is, we spray the hose down it to make sure it's clear. If the spout is clogged, water will back up and cause problems. Clearing clogged spouts can be a chore. If we find a clogged spout that we can't clear with water our service technicians have the expertise to take the spout apart, remove the clog, and put it back together properly.
Animals:
Lack of cleaning will also cause water to pond in areas dammed by debris. This condition is ideal for breeding mosquitoes. Plants, birds, insects and even mice will make a home in gutter debris.
We encourage ALL HOMEOWNERS to sign up for our annual cleaning program to save money, and save yourself on repair costs as well as damage to your home and your home's foundation.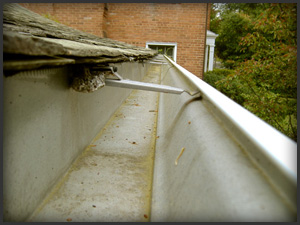 503-984-7161